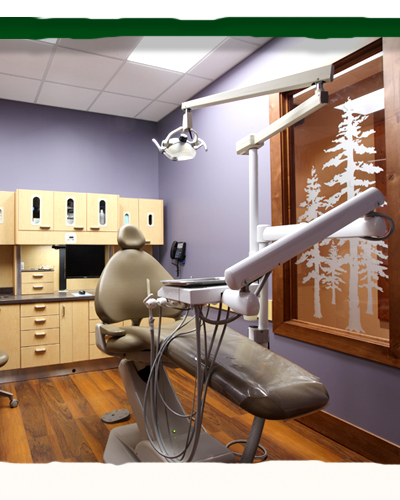 8:30am-5:00pm
By appointment only

Phone: 204-775-0349
1144 Pembina Hwy
Winnipeg, Manitoba
Canada
R3T 2A2
Located beside Starbucks,
just South of Point Road.

Shared parking with Starbucks
and Shoppers Drug Mart
About Us
We are a general dentistry clinic, current in all aspects of dental care. In addition to four general dentists, we are able to offer the services of a periodontist (a specialist in preventing and treating diseases of the gums), and four dental hygienists.
Our new office opened in December 2009, and is designed in a rustic lodge style with natural wood and stone featured throughout. Our unique blend of rustic charm combined with the latest technology allows us to provide modern dental care in a truly relaxing environment.
Originally located on Sara Avenue and opened in 1963 by Dr. Marcel Mollot, our office is a well established and growing practice. In 1997 Dr. Mollot retired, and entrusted Dr. David Stackiw to continue to care for his patients.
Our relocation to Pembina Highway in December 2009 marked an exciting chapter for us. Our new location is more spacious and modern, while we continue to maintain the high standards and ideals that our patients have come to expect. Many original families from the 1960's remain patients to this day.
Dental Emergencies:
If you are a current patient with a dental emergency (significant pain or swelling) that cannot wait until regular office hours, please call our office at 775-0349. Listen to the message for your specific dentist's emergency contact number. We would ask that only existing patients use this service.
Cancellations:
We require at least 24 hours notice for any appointment cancellation. Failure to provide adequate notice may result in a missed appointment fee.
Payment:
Payment is expected at the time of your appointment. As a courtesy for patients with dental insurance, we can submit your forms to your insurance carrier via email to ensure quick reimbursement.